WE ARE CLOSED DURING THE COVID LOCKDOWN!! We will only reopen 17 April 2020 at 10am. We can still assist with motivations during this time. Please email us for more info.
For all official information and updates regarding Covid-19 visit the South African Department of Health website at
www.SAcoronavirus.co.za
or their WhatsApp line on 0600-123456. If you want your own WhatsApp Chatbot visit
www.whatskonnekt.com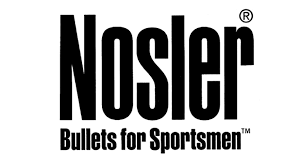 Founded in 1948, Nosler®, Incorporated is a family-owned company located in Bend, Oregon. Nosler® is best known for revolutionizing big game hunting with its world famous Partition® and Ballistic Tip® bullets. With the company motto "Quality First," Nosler® manufactures premium component bullets, brass, ammunition, and semi-custom rifles for domestic and international customers.